PUMPKIN SPICE TWIX BARS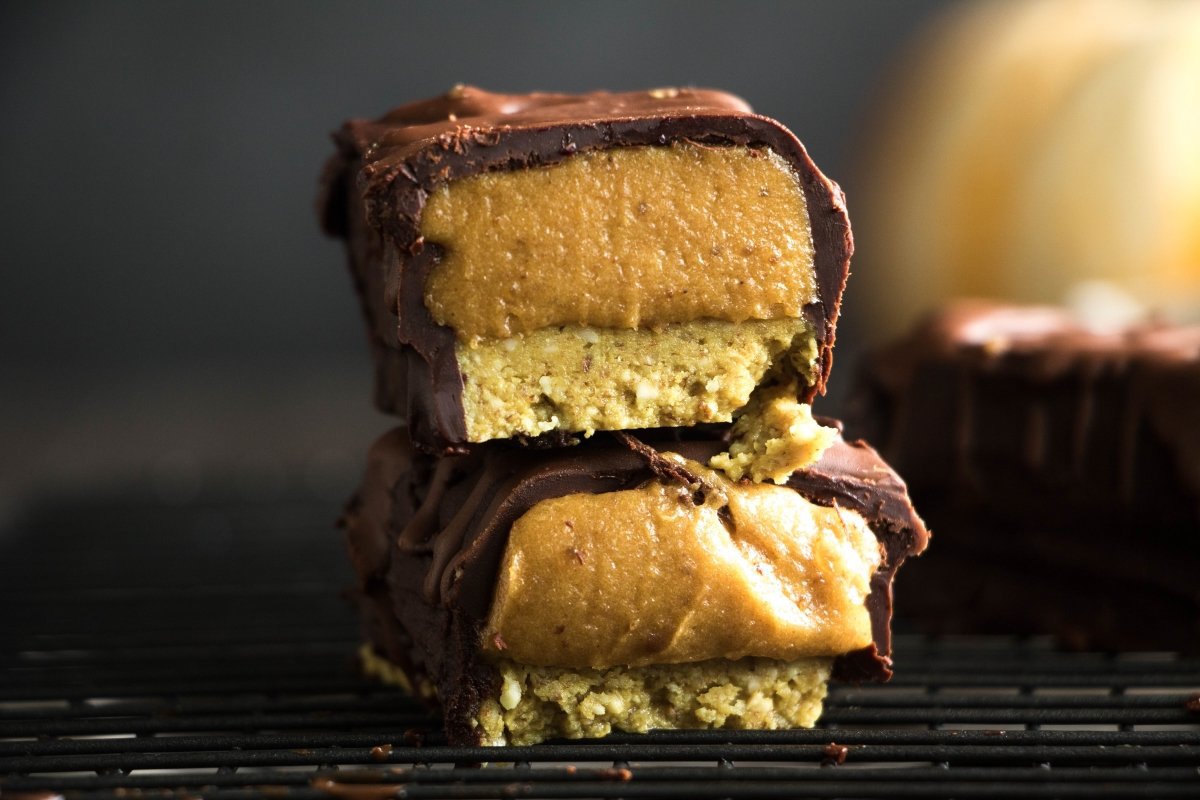 Serves 6 | High Protein | Raw
INGREDIENTS
For the base:
1/2 scoop of PERFORM: Salted Maca Caramel

1/2 cup cashews

1/2 cup pecans

2 tbsp peanut butter

1 tbsp maple syrup

For the filling:
1.5 cups of dates, pitted
4 tbsp coconut milk
2 tbsp peanut butter
2 tbsp pumpkin puree
1/2 tsp cinnamon
1/4 tsp ginger
1/8 tsp cloves
Pinch of salt

For the chocolate coating:
70g of your favourite raw / vegan chocolate
METHOD
1. To make the base of the bars, pop the cashews and pecans into a food processor and blitz until slightly crushed. Now add in the protein, peanut butter and maple syrup and blend until well combined. Press this into a lined brownie tin and pop into the freezer to set.
2. For your pumpkin caramel, add the dates, pumpkin puree and coconut milk into a food processor or high speed blender and blend until smooth and creamy. Add in the peanut butter, salt and spices and blend again. You want this to be nice and thick and completely smooth in texture. Spread this over the top of the biscuit base and return these to the freezer for 2 hours to set.
3. Gently melt your favourite raw/vegan chocolate bar until liquid. You can add in a tsp of coconut oil if the chocolate is too thick. Slice the bars into portions and coat in a layer of chocolate. Pop these back into the freezer for an hour to allow the chocolate to set, and then enjoy!
Calorie (kcal): 439 | Carb (grams): 49.2 | Fat (grams): 24.7 | Protein (grams): 10.4